Case Study: The Cornerstone Project - Building Affordable Housing in Whitehorse, YT
---
---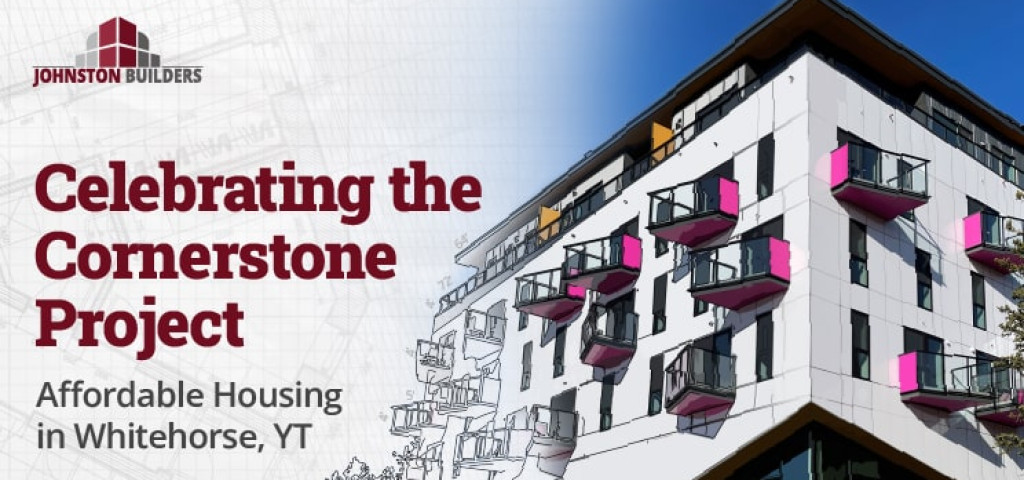 Johnston Builders is a construction company committed to creating safe, affordable housing solutions. This case study explores the company's involvement in the Cornerstone project to address the shortage of supportive and affordable rental apartments for one-person households in Whitehorse, Yukon Territory. The project is a collaboration between Johnston Builders, Opportunities Yukon (formerly Challenge Disability Resource Group), and the architectural firm kobayashi + zedda.
Project Overview: The Cornerstone project was initiated to tackle the pressing issue of affordable housing for single-person households in Whitehorse, YT. This case study highlights the key aspects of the project and its impact on the community.
Project Components
Commercial Space: The project includes two levels of commercial space designed for offices, meeting/training areas, retail spaces, and rough-ins for a commercial kitchen. This commercial space serves the residents and provides opportunities for growth and support for Opportunities Yukon.

Affordable Micro-Apartments: The project comprises three levels with 45 affordable micro-apartments, each equipped with kitchens and common laundry areas. Special attention was given to creating "barrier-free" units, ensuring accessibility with larger decks, lower countertops, and walk-in tubs/showers.

Luxury Condos: An additional level of the project offers eight luxury condos with in-suite kitchens, laundry facilities, and wrap-around decks, enhancing the living experience for residents.

Rooftop Patio: The project features a rooftop patio with inviting common areas, providing a space for community connections and relaxation.
Challenges Faced
The construction of the Cornerstone project encountered various challenges, including the height of the COVID-19 pandemic. However, through close collaboration with the Yukon Government, Opportunities Yukon, and the Challenge Disability Resource Group, strict travel protocols and site procedures were successfully implemented to ensure the safety of the construction team and the continuity of operations.
Inclusive Employment Opportunities
Johnston Builders collaborated with the Challenge Disability Resource Group to provide employment opportunities to individuals participating in their programs. This partnership offered stable and fulfilling work during uncertain times and fostered an inclusive and empowering environment, creating a positive impact within the community.
Community Impact
The Cornerstone project has made a significant difference in the lives of many individuals in Whitehorse, YT. It addresses the critical need for affordable housing and provides opportunities for economic growth and inclusivity within the community.
Acknowledgments
Johnston Builders extends its deepest appreciation to all the key players, stakeholders, and individuals involved in the Cornerstone project. Their unwavering dedication, support, and commitment to affordable housing have brought about positive change in the community.
Conclusion
The Cornerstone project is a testament to the power of collaboration in addressing pressing community issues. It showcases how a construction company, in partnership with local organizations, can substantially impact by providing safe, affordable, and inclusive housing solutions. This case study inspires future affordable housing initiatives and emphasizes the importance of safe and accessible housing for all residents.
Want to learn more? Check out the article from CBC below!